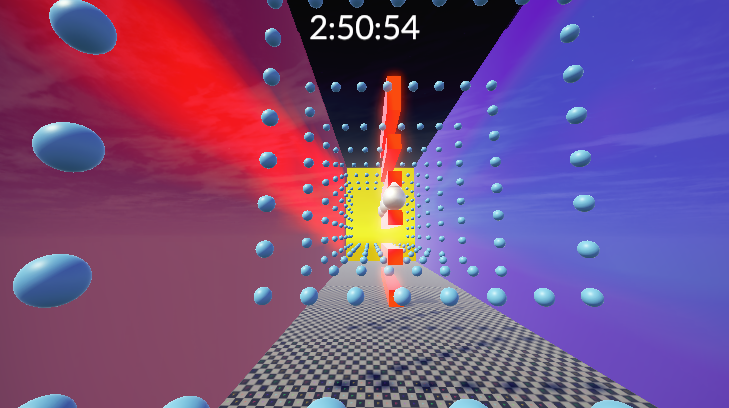 Actuator
This is my entry for the Pizza Jam 2018. The theme for the jam is "Movement."
Important: In the browser version, R to reload does not work (menu will not disappear) - you will have to Reload your browser tab to play again. Sorry. R to replay works properly in the Windows build.
Important for Opera Users: Disable Mouse Gestures
It is not necessary to play this game fullscreen, especially if your computer is not halfway decent, or if you are a habitual multitasker who eats RAM for breakfast, but fullscreen is recommended. You do, however, need to lock the cursor. Certain browsers behave strangely with this Cursor permission stuff, and the game may have to be started in a particular sequence for the locking/fullscreen to function properly. Sorry. The Windows build avoids that mess.
CONTROLS:
LOCK CURSOR: Esc
PAUSE: Enter
MOVEMENT: W A S D Q E
LOOK: Mouse
NITRO BOOST: Left click or Left Shift
BRAKES: Right click

HOW TO PLAY:
Round length is 3 minutes
Collect green orbs (25 points)
Alternate to hit yellow and green walls (10 points)
Hit blue and white orbs (1 point, 5 points)
Avoid red-orange stoppers (minus 10 points)
Keep it moving!

CREDITS AND ATTRIBUTIONS:
Unity Asset Store Free Assets Used:
"JellyShader"
"SkySerie Freebie" Skybox
Wonderful Editor Assets:
Sirenix Odin
Hierarchy Pro
TransformPro
Ambience and some sound effects from Sonniss GDC free packs
One sound (Artist: Berklee, Identifier: Berklee44v10
Year: 2007) from this collection: https://archive.org/details/Berklee44v10
Text-to-speech by Google Translate
Other audio created myself
Download
Download
Actuator-0.1-Windows x64.zip
44 MB
Comments
Log in with itch.io to leave a comment.
Hard game is hard.

Also I love the sound of the brakes.
That minus means you lost, Cuz. :) Thanks for playing. I got no sleep at all last night. Yow Low. did I do that right/?